Track customers even before you know their name, join the dots and discover where your leads have been.
Build powerful automation rules to send dynamic content or targeted emails, based on your leads interests, manage your sales pipeline and analyse your overall sales and marketing performance.
Watch this video to discover some of the great features of our powerful platform…
Generate more qualified leads. Convert them to sales. Optimise your sales & marketing operations.
POWERFUL & INTUITIVE CRM
UNLIMITED USERS
VISITOR TRACKING
CREATE BEHAVIOUR-BASED EMAIL
SALES AND MARKETING AUTOMATION
DYNAMIC FORM BUILDER
REPORTING & ANALYTICS
CONTENT CALENDAR
CHATBOT & LIVE CHAT
GOOGLE ADWORDS INTEGRATION
LANDING PAGE BUILDER
CAMPAIGN TRACKING
SOCIAL MEDIA SCHEDULING & LISTENING
BUILT IN VIDEO CALLING
UP TO 100,000 CONTACTS WITH 25,000 EMAIL SENDS PER MONTH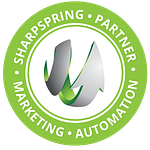 SALES AND MARKETING AUTOMATION YOU CAN RELY ON
Automation is no longer something only large corporations have access to. As Certified SharpSpring Partners, we can help you connect with your customers, automate your campaigns, manage your sales pipeline and analyse your overall marketing and sales performance. You can increase productivity and lower your overheads while generating more qualified leads and returns on investment. With unlimited support, training and the full set of powerful marketing automation features, you can be up and running to generate returns in no time. Need assistance with your lead generation and conversion campaigns? Just let us know as we can help you a little or a lot!
Powerfully integrated

SharpSpring is built to play nicely with the systems you want to keep.
CRM, CMS, form builder – not a problem.
Get even more from SharpSpring with integrations, products, and services that extend the power of marketing and sales automation.
Book a Demo Today
Affordable automation & CRM solutions at lower rates than going direct.
Month-to-month options. No long-term contract required.
Learn what our sales and marketing automation platform can do for all of your marketing and sales activities.
Prepare to be blown away!
Arrange your free online demo today.
Inbound Marketing Support
Need a helping hand in leading new customers to your door?
With Exubra, there are many great reasons to outsource marketing and automation!
As Inbound Digital Marketing and Automation specialists we are with you every step of the way to offer as little or as much support as you need.