Mammoth catalogue design project completed by Essex branding and inbound marketing leaders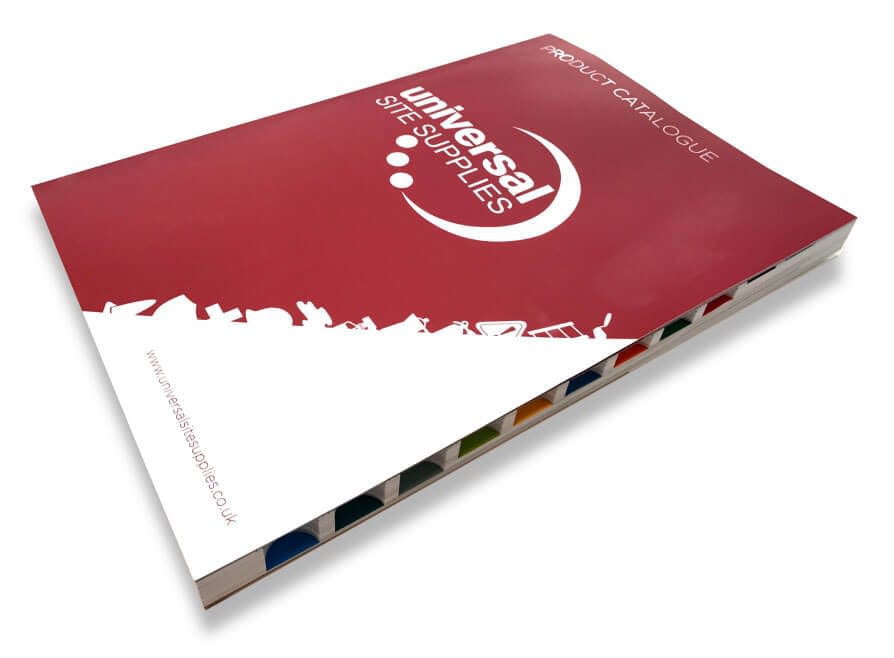 "When we first approached Exubra we knew we were presenting them with an epic challenge.
Exubra's experience of similar projects, coupled with efficient project management allowed us to work together seamlessly throughout.
They helped drive the project forward when we ourselves were waning and delivered it on time and on budget. The finished result is everything we had hoped for and more."
Rob Errington, Universal Site Supplies
Background:
Exubra, Essex branding and digital marketing leaders, had enjoyed a relationship with Universal Site Supplies stretching back almost a decade to 2008. During that time, Universal Site Supplies had become one of the leading providers of construction products, materials and safety equipment, while Exubra had cemented their position as the South East's branding and marketing specialists.
After being catalogue designers for Universal Site Supplies' 106-page first edition, Exubra were charged with the task of accommodating the company's rapidly expanding product range and designing a new look and finish in a much larger catalogue for a 2017 edition. The publication had to enhance both Universal Site Supplies' business development and their service to an existing national client base. They also wished to give the catalogue a digital presence to augment multi-channel exposure.
Challenges:
The rapidly changing selection of products on the market, and Universal Site Supplies' desire to have their newest stock included in the catalogue, meant the contents of the catalogue underwent significant change in the time after Exubra took on the project.
With such a huge range of products in one physical location, it was important that the print edition displayed the same searchability as the digital version, allowing readers to navigate easily thanks to intelligent catalogue design.
Solution:
The contents were finalised in early 2017, accommodating this year's latest releases, from PPE to the hand tools most sought after by today's construction companies. Exubra implemented a production strategy based around designing styling and templates for the catalogue ranges first, with featured products being added at a later stage.
A colour coded design styling and thumb cut index were implemented to enable the reader to identify their catalogue location from section to section. Images selected were engaging while being stylistically consistent, while a soft touch lamination and gloss UV gave the exterior a tactile and professional feel.
Using our online brochure service, which accelerates market penetration and offers mobile compatibility, Exubra produced and implemented a digital version of the catalogue which gave Universal Site Supplies a permanent online resource which could be accessed from anywhere.
Results:
The two completed versions of the publications offer unique user experiences which have provided the Universal Site Supplies catalogue with the edge over its competitors. The catalogue meant Universal Site Supplies were able to reflect their newly strengthened supply chain network by the quality and depth of stock, as well as items which are new and in demand. Whether meeting prospective customers in person, mailing them electronically or using post, Universal Site Supplies now have the advantage of an engaging and informative catalogue which represents their impressive range.